[videojs_video url="https://gympie4x4.com.au/wp-content/uploads/2018/04/About-Us.mp4″ autoplay="true" muted="true"]
Owners Greg and Chris Henwood are 3rd generation locals and extremely proud of our region and all it has to offer.They purchased Gympie 4×4 Accessories in 2008 and have worked tirelessly to expand the business to increase stock on hand and employ more staff ensuring growth for the area.
"We offer a full fitting service for all vehicles requiring aftermarket accessories. We focus on increasing the functionality and versatility of your vehicle, irrespective of whether you use it for work, play or both." A waiting room is available with TV and air-conditioning or for local customers we can offer a pick up/ drop off delivery option.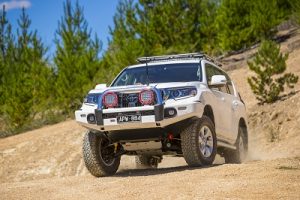 Gympie 4X4 Accessories is proud to be the ARB dealer for the Gympie and Cooloola region. Today, ARB is Australia"s largest manufacturer and distributor of 4×4 accessories. What began with custom fabricated bull bars and roof racks has grown to include side rails, rear bars, Old Man Emu suspension, recovery gear, canopies, Air Locking differentials and a host of smaller items from air compressors to tyre accessories.
Our staff are known for their passion and enthusiasm for off road driving ensuring they can offer knowledge and infield advice on whats best suited for your needs.
Arb Gympie you guys and girls are amazing , we broke 2 shockies on Fraser and dropped in on our way home to pick some up. Not only did they help find the ones we were looking for they also helped us fit them. Great work!!!

Emily Hartley

These guys are absolutely awsome and very professional. They treat you like a real lady. Nothing is ever too much.

Sheree Williams

Awesome people! Great service!! My mates and I pulled in to ARB Gympie on the way to Fraser. We needed to fit an awning up quickly as we had incorrect size bolts. They sorted the bolts out and had the thing secured on the truck in 5min. We couldn't help but walk out with another awning for one of the other trucks in our convoy while we looked around for the 5min we had. We had a Great week at Fraser, and all in the shade awesome!!

Matt Swift

Greg……thankyou very much for a job well done on my bulbar fit….the boys did a very good job…..no squeaks, rattles, bangs…..excellent…..great ARB dealer…

David Sparreboom

Greg……thankyou very much for a job well done on my bulbar fit….the boys did a very good job…..no squeaks, rattles, bangs…..excellent…..great ARB dealer…

David Sparreboom

Great customer service Great product knowledge Great showroom

Michael Harch